Manston Airport campaigners consider further action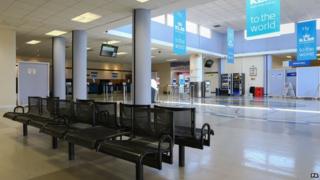 Campaigners seeking to reopen Manston Airport have said they are considering the option of asking for a compulsory purchase order (CPO).
The airport in Kent closed last Thursday with the loss of 150 jobs after its owner said no "credible or viable" offers to buy it had been made.
Three offers from US investment firm RiverOak were rejected.
Keith Churcher, chairman of Save Manston Airport, said it would "fight to get Manston back open again".
Talks between the leader of Thanet District Council and owner Ann Gloag about the airport's future were held over the weekend, though details have not been released.
Following its closure, the council said it had been "working hard behind the scenes" alongside local Conservative MPs Sir Roger Gale and Laura Sandys and Kent County Council as part of a task force to support retention of the airport as "an important economic asset".
'Contracts lined up'
Sir Roger said the council would have to submit the application for a CPO.
"The moment the process is started nothing else can be done with the land," he said, adding that the objective was to purchase the site in the public interest and reopen it as an airport.
"The advice that I've had... is that this is perfectly possible, quite do-able, and I would hope and expect that the advice from officers will be that Thanet can go ahead," he said.
Sir Roger said Ms Gloag had been offered the full asking price by RiverOak.
"The sad thing is that they were ready to go.
"They actually had contracts lined up ready to sign to run the airport, a new business the moment they took control," he said.
The site was bought by Ms Gloag, who co-founded the Stagecoach Group, last October but in March it was announced the airport was in talks about closing because it was losing £10,000 a day.