Maidstone Hospital 'must improve patient care' says CQC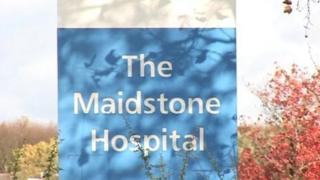 Patient care at a hospital in Kent must be improved if people's health, safety and welfare are not to be put further at risk, a health watchdog has said.
The Care Quality Commission (CQC) found Maidstone Hospital was failing to meet national standards following an unannounced inspection in February.
Inspectors looked at the care of patients facing surgical procedures and the provision of care for children.
Maidstone and Tunbridge Wells NHS Trust said it was improving patient care.
The CQC said people having surgery at the hospital had not always received safe care either before or after their procedures and some had been unhappy with the number of delays or cancellations they had experienced.
'Inadequate processes'
Inspectors found some people did not have the chance to speak to their surgeon before surgery and some were only asked for their consent while waiting to go into theatre.
However, all the patients interviewed were positive about the care they had received before and after surgery.
The CQC also found that children receiving care did not always have access to staff trained in paediatric medicine. In addition, the paediatric resuscitation team did not routinely contain a paediatrician out of hours.
Overall, it said inspectors found Maidstone Hospital did not have "adequate processes to assess or monitor the quality of the services checked" meaning "risks to patients' health, welfare and safety were not being managed appropriately".
'Very safe'
Dr Paul Sigston, medical director at Maidstone Hospital, said: "We welcome many areas of this latest review that identify good clinical practice, positive patient comments and opportunities which we are quickly addressing with the CQC to improve patient care.
"We are also clarifying some incorrect assumptions within the report that do not accurately reflect actual standards of patient care that we can evidence at Maidstone Hospital."
He added: "Our hospitals are very safe. We have good mortality rates, positive patient feedback, high quality outcomes and excellent infection control.
"We are also improving in all of these areas and this is evidenced through robust local and national safety and quality indicators."
The CQC said its inspectors would return to the hospital in the near future to check that the required changes had been made.