Manston Airport campaigners hold march to call for site purchase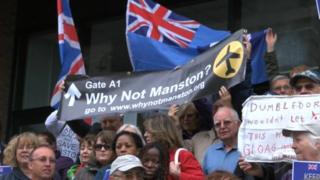 Campaigners fighting to save Manston Airport have marched in a bid to urge Thanet District Council to push through a compulsory purchase of the site.
The airport in Kent closed last Thursday with the loss of 150 jobs after its owner said no "credible or viable" offers to buy it had been made.
The Save Manston Airport group said it would "fight to get Manston back open".
The council says it will commission a report to find out whether a compulsory purchase order will be viable.
The site was bought by Ann Gloag, who co-founded the Stagecoach Group, in October.
But in March it was announced the airport was in talks about closing because it was losing £10,000 a day.