Holiday flights take off from Lydd Airport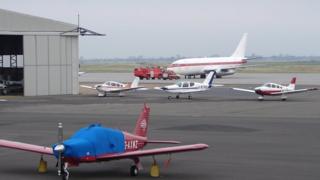 Holiday flights are taking off from a Kent airport for the first time in decades after a tour operator moved its operation there.
Newmarket Holidays, which had operated from the now-closed Manston Airport, has moved its business to Lydd.
Two flights will leave Lydd for Italy on Sunday with 93 people on board.
Lydd Airport has recently been given permission to expand its terminal and runway, which it said would allow it to serve Europe and North Africa.
Half a century ago, Lydd was a busy airport and regularly used by royalty and Hollywood celebrities.
Royal recognition came when Prince Philip flew his personal DH Heron aircraft into Lydd in 1956 and regular customers in the 1960s included Gregory Peck, Diana Dors and Humphrey Bogart.
The airport, run by Silver City Airways, had grown from a grass airfield to a purpose-built airport in the 1950s.
With daily flights operating to Le Touquet in France and Ostend in Belgium, Lydd handled a total of 222,828 passengers in 1958.
By the 1960s, Lydd was one of Europe's busiest airports.
But the Silver City service declined during the 1970s as the cross-Channel ferry market grew. Other passenger and freight services kept the airport in operation.
Airport chiefs have said Lydd was now growing again with a mix of private and training general aviation, corporate jets, air taxis, cargo and maintenance, and scheduled services to Le Touquet.
Finance manager Hani Mutlaq said the runway extension, due to be completed by summer next year, would bring a further 140 jobs directly at the airport, plus other restaurants, hotels and companies nearby.
Work on the £25m development, which will provide capability for aircraft the size of Boeing 737s or Airbus 319s, is expected to start this autumn.