World Cup 2014 domestic violence specialist clinic launched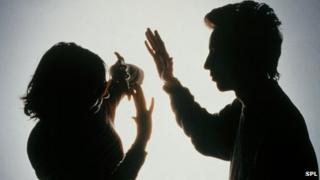 A clinic is being set up in Kent to support victims of domestic violence during the Brazil World Cup.
Figures from the 2010 event showed there was often a spike in cases when England play, irrespective of the match result, mostly due to drinking.
When England beat Slovenia 1-0 in June 2010, there was a 27% rise in cases across the UK.
In Kent there was a 32% rise in cases of abuse, while in Sussex the figure rose by 26%.
A victim of domestic abuse who did not want to be identified, said: "He'd had a lot to drink. I made sure that I only had a couple of drinks because I wanted to keep a level head.
'Expectation and celebration'
"We started to walk home, I tripped up and went to grab his arm for reassurance or help and he pushed me and I ended up on the floor.
"We walked home and it stemmed from there, the abuse, the shouting, we got in the house and the house was completely obliterated and the police were called."
Solicitor Maria Steele-Williams added: "I think there's a sense of expectation and celebration, but unfortunately alcohol is often involved and that can turn a situation sour, especially if those expectations are dashed."
Det Ch Insp Andy Pritchard, from Kent Police, urged people who are abused during the World Cup to come forward.
The unit, run by North Kent Women's Aid, will be operating at Greenfields children's centre in Shepway for five-weeks from Thursday.