College to set up centre at Discovery Park in Sandwich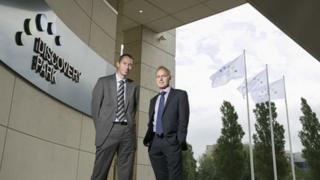 A further education college in Kent has announced it is establishing a centre at the Discovery Park in Sandwich.
East Kent College is also moving its science teaching to the former Pfizer site in a move which it said showed its commitment to the community.
It will mean students and staff can use industry standard laboratories and work alongside science-based companies.
The college said the relocation would mean its three campuses in Thanet, Dover and Folkestone had equal status.
Graham Razey, East Kent College principal, said: "This move marks an important step in our plans to create a further education college that truly reflects our commitment to serving the whole of east Kent."
Create links
Paul Barber, Discovery Park managing director, said: "The arrival of East Kent college will appeal to many of the companies already here or currently considering establishing a UK base at Discovery Park."
The deal will take 5,390ft of office and training space in Innovation House and 893ft of laboratory space at Discovery Park.
The vacated rooms and offices at the Broadstairs campus will be used for other training and education.
East Kent College said it was an opportunity for it to create links with more than 80 businesses at Discovery Park for training, as well as student placements and apprenticeships.
The move of the management team to the Sandwich site will be completed by August 2014.