Three Lions played to bus users in Chatham every hour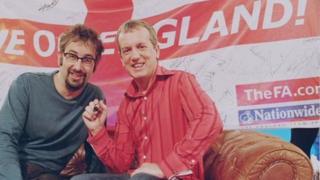 Football anthem Three Lions by David Baddiel and Frank Skinner will be played to bus passengers every hour until England leave the World Cup.
Three Lions was released for the European Championships in 1996 by the two comedians and the Lightning Seeds.
Medway Council plans to play the tune over loud speakers to people using Chatham Waterfront bus station every hour until England are knocked out.
Leader Alan Jarrett said it was to help people have fun and enjoy the event.
'Go all the way'
He said: "It is a great way to get people in the mood for the England games and we hope people will also have a sing-a-long as well.
"We want the lads to go all the way and this is our way of getting behind them.
"We aim to be the most patriotic council in England."
Three Lions reached number one during the European Championships in 1996 and also when it was re-released during the 1998 World Cup.
It was also re-released for tournaments in 2002, 2006 and 2010.