Ramsgate port 'on verge of bankruptcy' as income falls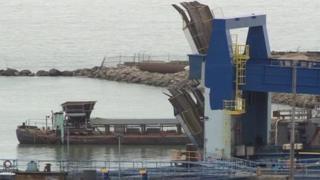 Ramsgate port is "teetering on bankruptcy" after income fell by £1.73m in a year, a Kent councillor has said.
Thanet councillor Ian Driver obtained figures through a Freedom of Information (FOI) request to the port, which is owned by Thanet council.
He said the fall in income followed the council's support for TransEuropa ferry firm, which ceased trading last year.
Thanet District Council said the port had lost income but reports that it was near bankruptcy were not true.
Figures provided by the port said it generated £2,301,613 in financial year 2012-13, and £570,570 in the year 2013-14.
'No new ferry'
Mr Driver, a Green Party councillor, said: "This extraordinary drop in income is explained by the 2013 TransEuropa Ferries scandal.
"More than year later, and despite having hired a specialist maritime industry consultant, the council has failed to attract a new ferry operator or significant alternative business for the port.
"I would be surprised if the £570,000 income generated by the port in the last financial year, came anywhere close to covering its day-to-day operating costs."
The Port of Ramsgate is owned and operated by the council.
'Ambitious plans set out'
Councillor Mike Harrison, Labour cabinet member for operational services, said the port saw a significant loss of income after the termination of the Transeuropa ferry service.
He said: "The council was very clear from the start that the loss of this service - the largest income generator for the port - would leave a significant gap in the budget."
The council took steps to reduce the running costs of the port and worked hard to manage the loss of income, he added.
"In short, we put steps in place to cover the costs and budgeted for the anticipated loss," he said.
Mr Harrison said action was being taken to secure a viable future for the port and the council was actively marketing it to attract a future ferry operator, as well as seeking other income-generating opportunities.
A draft Ramsgate maritime plan had set out an ambitious scheme and would be shared with the council's cabinet in July, he added.
"This is a challenging time but let's be clear, we still have a working port and successful marina," he said.