Kent landlord offers reward after medals stolen on D-Day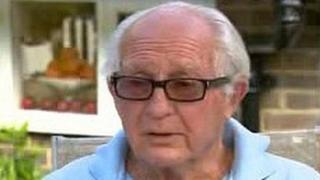 A £5,000 reward is being offered for information leading to the conviction of thieves who stole medals from a war veteran in Kent on D-Day.
The home of Robert and Anabel Atkins in the village of Rolvenden Layne was ransacked as they slept upstairs.
Medals dated 1827, belonging to Mr Atkins' father and grandfather, were taken, along with a Gurkha knife, jewellery and silver cutlery.
Fergus Wilson, who owns hundreds of properties in Kent, put up the reward.
The thieves entered the couple's house after forcing open a locked window in the living room sometime between 21:00 on 6 June and 07:00 on 7 June.
A decorated Gurkha knife, which was presented to Mr Atkins, 87, when he was in the 6th Gurkha Regiment between 1950 and 1957 was taken, along with more than 200 pieces of silver cutlery from the kitchen which bore the family crest and were made in 1827.
The stolen jewellery belonging to Mrs Atkins, 75, was worth more than £20,000, police said.