Port Lympne's gorilla Djala and family join wild primates in Gabon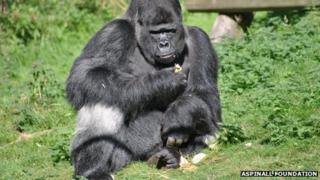 A family of gorillas from Kent are being released from a controlled island to join 30 wild gorillas at a national park in west Africa.
The primates, led by a 440lb silverback called Djala, were sent to Gabon from the Apsinall Foundation's Port Lympne reserve, near Hythe, in June last year.
After a year on a 5ha (12 acre) island, they are now being released into the main Bateke Plateau National Park.
The foundation will monitor the gorillas in their new home.
Djala, aged in his 30s, was rescued in Gabon as an infant after his parents were killed for bushmeat and brought to Port Lympne in the 1980s.
'Saw them off'
Growing to 440lb (200kg), he became one of the largest silverbacks in captivity and fathered 15 offspring.
His family in Gabon consists of four females and his four young offspring, who were born in captivity.
Adrian Harland, animal director at the Aspinall Foundation, said: "He (Djala) has already had an encounter with a solitary male gorilla. A fallen tree enabled this solitary male to get on the island and challenge Djala for his women.
"Djala defended the family and saw him off and the solitary male was desperate for us to put a gangway up so that he could escape."
The charity manages two gorilla rescue and rehabilitation projects in the central African countries of Gabon and Congo, and said it has successfully reintroduced more than 50 gorillas back into the wild since 1996.