Appeal court judges rule UK 'cannot educate world'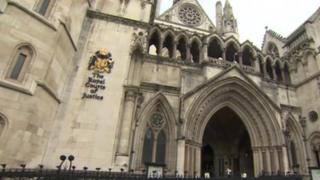 Judges have dismissed a claim that three children from the Philippines should not have their education disrupted by deportation, saying the UK "cannot educate the world".
The Court of Appeal ruled the claim was outweighed by "the need for immigration control".
The children have an "excellent report" from their school in Kent, it heard.
The judges said the fact it would be in their "best interests" to remain was not the deciding factor.
The court was told there is no free secondary education in the Philippines, and the mother's permission to remain and work in the UK has run out.
Their mother worked at a care home in Kent and was joined by her husband in April 2008, followed by the couple's three children - a daughter now aged 15, a son aged 12 and daughter aged nine, in July 2009.
She entered the UK with a work permit and was given permission to stay until February 2011.
'Best interests'
Her application for indefinite leave to remain was rejected by the Home Office immigration authorities, leading to a series of legal challenges.
The appeal court rejected the woman's challenge to the Home Office decision, upheld by immigration tribunal judges, not to renew her family's permission to remain after her work permit ran out.
Her lawyers argued the best interests of her children and their education in the UK ranked above all immigration control considerations.
They said sending them back to the Philippines would breach Article 8 of the European Convention on Human Rights, which safeguards the right to a private and family life.
Lord Justice Lewison said: "Although it is, of course, a question of fact for the tribunal, I cannot see that the desirability of being educated at public expense in the UK can outweigh the benefit to the children of remaining with their parents.
"Just as we cannot provide medical treatment for the world, so we cannot educate the world."
However the judges left open the possibility there could be other cases where it was "overwhelmingly" in the child's best interests not to be removed.
The ruling by Lord Justice Jackson, Lord Justice Lewison and Lord Justice Christopher Clarke will provide guidance for immigration tribunals throughout the country.