Paramount 'Disneyland rival' theme park seeks Kent views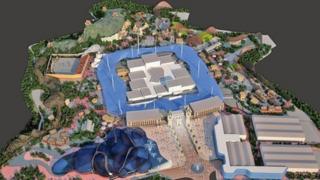 The brains behind a planned £2bn theme park that aims to rival Disneyland Paris are heading out to woo the people of Kent.
Developers have been granted a licence from Paramount Pictures to use its name on a resort on the Swanscombe Peninsula, near Dartford.
Fun park chiefs hope their giant water park and Hollywood-inspired thrill centre will win public support.
London Resort Company Holdings hopes to submit a planning application in 2015.
Public exhibitions will be held at:
Ebbsfleet Academy, in Swanscombe, on 10 July
North Kent Community Church, in Gravesend, on 11 July
The British Legion, in Greenhithe, on 11 July
Swanscombe Leisure Centre, in Swanscombe, on 12 July