Illegal UK migration: Port of Dover lorry drivers fined on rise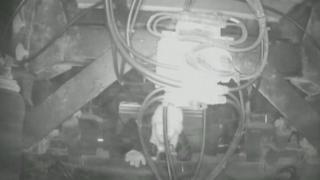 More than 900 lorry drivers were fined in the last financial year for entering the UK via the Port of Dover with stowaways on board.
Fines issued in the year 2012-13 stood at 915, compared with 1,580 in 2008-09.
Figures, sourced by BBC Radio Kent, show that while at a three-year high levels were still lower than in 2009.
A spokesman for the Border Force said the level of fines correlated with the amount of clandestine migrants found on lorries.
He added the amount each haulier was fined depended on several conditions, including the number of migrants found on each vehicle and how much care drivers had taken to prevent stowaways.
Drivers were now more aware of the situation as were the French authorities, he said.
Drivers 'attacked'
Hauliers can be fined up to £2,000 for each illegal migrant found on their lorry.
In the year 2012-13 more than 11,000 attempts to cross the English Channel illegally were prevented at "juxtaposed controls", the Border Force said.
It added drivers and hauliers, both from Britain and overseas, had to "play their part" in preventing illegal migrants from reaching the UK.
"We require them to take adequate steps to secure their vehicles from illegal immigrants trying to smuggle themselves across the border.
"If a driver does not take these steps - and is found with people hiding in their vehicle - they will be issued with a civil penalty."
Ashford MP and former immigration minister Damian Green said the fact that fines were on the increase again showed the government was "effective in conjunction with the French authorities in trying to protect our borders".
The Freight Transport Association warned that with the migrant camp in Calais being cleared, hauliers travelling from France to the UK were facing the toughest situation they had had to deal with in years.
Spokesman Donald Armour said he had heard reports of drivers being attacked by gangs.
"These people are really, really desperate to get across the Channel to the UK, and they're not necessarily going to let one lorry driver get in the way," he said.
Civil penalties imposed on hauliers
Financial year
Number of fines
2008-09
1,580
2009-10
1,270
2010-11
814
2011-12
648
2012-13
915