Anti-trafficking teams posted to Port of Dover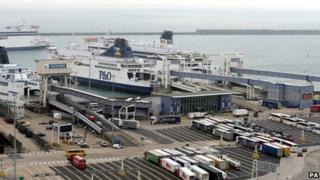 Specialist UK Border Force teams are being posted to Dover to identify human traffickers and their victims.
It comes as the cross-Channel border is under increasing pressure from migrants trying to reach Britain.
Earlier this month, police in Calais cleared camps occupied by migrants hoping to enter the UK.
Samantha Rigler, from the UK Border Force, said most trafficking victims were not aware they were coming to Britain to be exploited.
"They believe they're coming in for education, for better jobs, to be able to send money back home to their families," she said.
Christine Beddoe, director of of ECPAT UK (End Child Prostitution, Pornography and Trafficking), said: "Even though this is one step forward, we still have a very long way to go.
"Unfortunately some of the existing problems we have actually catching the perpetrators are still going to exist.
"We see children or young people terrified to speak the truth when they get to a port because they've been told what will happen to them or to their family if they speak to traffickers."
The RNLI earlier issued a warning to people trying to cross the Channel in makeshift and dangerous boats after carrying out two rescues in the last two weeks.
The charity warned that migrants who attempted to cross the Channel in unsuitable vessels were in grave danger.