Auction leads to rediscovery of lost Victoria Cross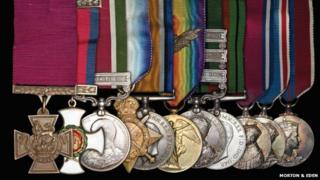 The auction of the only Victoria Cross awarded for the 1904 Tibet campaign has partly solved a family mystery despite its seller remaining anonymous.
The gallantry medal was awarded to Col John Duncan Grant who served in the 8th Gurkha Rifles, and who died in Tunbridge Wells, Kent in 1967, aged 90.
It sold for a record £408,000 as part of a collection of 12 awarded to him.
His great-nephew Michael Turkheim said the whereabouts of the medals had previously been unknown since 1988.
Formidable fortress
"It's always been something of a family mystery - we were always led to believe that they were in the possession of John Grant's children," he said.
After the death of Col Grant's son Hugh, Mr Turkheim said there had been rumours that the medals had "ended up with very distant cousins".
He said the family were disappointed that the seller of the medals had chosen to remain anonymous.
"They should have demonstrated to interested parties, such as myself, that they had a legitimate right to sell them," Mr Turkheim said.
The campaign medals, which also included the Distinguished Service Order and the Order of the Bath, were sold by auctioneers Morton & Eden last week.
Director James Morton said it was "a record price for any group of British medals sold in this country".
"In World War One there were 628 VCs awarded. In the Tibet campaign of 1903-04 there was just one," he said.
The medals were bought by the Ashcroft Trust, and will go on permanent display at the Imperial War Museum in London.
The citation on Col Grant's Victoria Cross said despite being wounded, he stormed a formidable Tibetan fortress high above a sheer rock face with a single Gurkha under his command.