Manston Airport meeting halted as councillor thrown out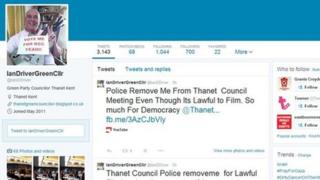 A council meeting to discuss the compulsory purchase of a Kent airport was halted when a Green councillor was thrown out for filming the proceedings.
Ian Driver said the leader of Thanet District Council, Iris Johnston, swore at him before he was escorted from the building by four police officers.
Labour's Ms Johnston said Mr Driver was "grandstanding" and admitted using "robust language" but not in anger.
The council agreed to investigate further whether it should buy Manston.
Mr Driver said: "A strange situation developed where, as an elected member of Thanet District Council, four police officers were called in order to escort me out of the building.
"It is quite extraordinary what happened."
Ms Johnston said Mr Driver had not asked permission to film the meeting.
"I was asking him to stop what he was doing because we needed to get on," she said.
"I am sorry about the language but there are times when someone like Ian needs the most robust confrontation."
A petition signed by 7,700 people supporting the compulsory purchase was handed to the council on Thursday night.
An extra room was set aside for campaigners to watch the debate.
According to Thanet Council, Mr Driver refused to leave when he was asked to do so by the chairman and the council's security. He also insisted he would only leave if escorted off the premises by police, they said.
Risks of purchase
A Thanet spokeswoman said the council's constitution had been followed when the Green councillor was thrown out.
She said that as Mr Driver "continued to behave improperly, the chairman then moved, and again council agreed, that the member leave the meeting".
She said Thanet District Council films all its full council meetings, which are published on its website.
The council will hold an extraordinary cabinet meeting on 17 July to discuss buying the airport.
Ms Johnston said the future of Manston, which closed in May, was a priority.
But she said the council needed to be sure any legal or financial risks were managed correctly.
The airport was bought by Ann Gloag, co-founder of the Stagecoach Group, in October.
It was closed with with loss of 150 jobs - despite three offers to buy it being made by US investment firm RiverOak.