2014 Tunbridge Wells Mela 'may be the last'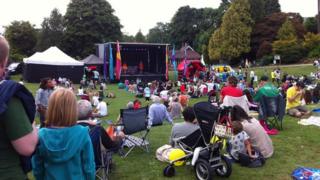 Organisers of an annual festival in Tunbridge Wells have said this year's event may be the last after the borough council withdrew its funding.
The Mela, in the Kent town's Calverley Grounds, is in its 9th year and attracts up to 6,000 people.
Festival director Gurvinder Sandher said it had been a struggle to raise the money since funding was withdrawn.
The council said the challenging economic climate meant it had to make difficult decisions about budgets.
In 2013, Tunbridge Wells Borough Council said it would not provide the £15,000 funding the festival had previously received.
Mr Sandher, director of the Kent Equality Cohesion Council, said trying to raise funds to cover the shortfall was "always a headache".
He said: "Hopefully with the support of the residents we can continue to make the Mela happen but as we sit here today, this potentially could be our last one."
The event was held on Sunday afternoon.