Lord Howard wants fewer terminally ill people dying in hospital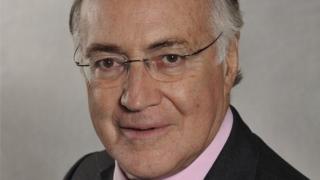 A hospital ward should be the last resort at the end of someone's life - not the first one, according to the Conservative Peer and former party leader Lord Howard.
Currently, around 250,000 people each year die in hospital.
Lord Howard, who represented the Kent constituency of Folkestone and Hythe for 27 years, is now leading the Help for Hospices campaign to try to change that.
Help the Hospices wants to work with the NHS to help terminally ill people who want to leave the wards and aims to reduce the number by a fifth - around 50,000 people.
Lord Howard believes it would not only lead to better targeted care, but would save the NHS £80m.
He said his father was able to die at home and was cared for by nuns. He said their care and devotion has stayed with him and inspired him to take part in this campaign.
Lord Howard said: "For very many of the people who die in hospital at the moment there's no clinical need for them to be there.
"They need palliative care and hospitals, with the best will in the world, are there to cure and mend and they're not really great at palliative care - so we think that it would be much better if it could be arranged for people who want to die at home or in a hospice to do so".
While there is support for the move - with figures suggesting that more than 80% of the public would prefer to die at home or in a hospice - carers say it must be about choice not cost-cutting.
Sandra Springett from Age UK said: "If they wish to die at home or in a hospice then that should be able to happen for them but we do need the right resources in the community to the hospices"
But she warned: "If this is a case of saving the NHS a lot of money then that money needs to be re-directed so those people get the support they need."
Many elderly people also back the right to choose - one told me that "when you get sent to a hospice you know why you're going there".
Lord Howard said he'd like to spend his final days in the "familiar surroundings" of his home in Kent. He hopes this campaign means that many others will also have a choice when it comes to the end of their life.