Second cheetah litter born in a year at Kent reserve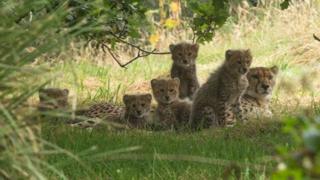 A second litter of cheetah cubs has been born at a wild animal park in Kent in a year, after the animals were not bred there for almost 30 years.
The five cubs were born at the Aspinall Foundation's Port Lympne reserve, near Hythe, in April.
To begin with the mother was protective but now the cubs have made their first appearance in public. The three females and two males have not been named.
The first litter of four cubs was born in September 2013.
'Listed as vulnerable'
It is part of an international breeding programme designed to help boost the world's population of cheetah.
Richard Barnes, head of the big cat section, said: "We are really chuffed that we now have a second litter of cubs.
"Nearly 30 years since cheetahs were last bred at the parks we have had two litters within a year."
Cheetahs are currently listed as vulnerable by the International Union for Conservation Nature.
In captivity, cheetahs can be difficult to breed as females are picky about the mate they choose.
At Port Lympne, both females chose the same particular male to breed with.