Foreign drivers speeding in Kent evade action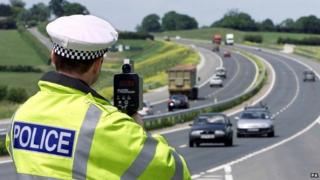 More than 2,000 foreign drivers were captured speeding by cameras in Kent last year, but faced no consequences.
The figures were released as the European Commission discusses greater powers for police to pursue law-breaking drivers from other countries.
The European Traffic Police Network Tispol, which released the statistics, said the proposals could save lives.
Britain opted out of cross-border co-operation some years ago, along with the Republic of Ireland and Denmark.
Some 2,267 foreign drivers captured speeding in Kent had no action taken against them last year.
Natalie Chapman, the Freight Transport Association's head of policy for London and the South East, said as a gateway county, Kent had a high number of foreign drivers.
'Top-three country'
"At the moment, the only way in which to actually enforce these fines is if you actually stop a driver at the roadside," she said.
"In the UK we do a lot of our enforcement via cameras, we don't have so many bobbies on the beat as perhaps other countries do."
Helen Kearns, the European Commission's spokeswoman for transport, said some countries like Belgium and France have had a cross-border co-operation system in place for several years.
She said the proposed legislation would crack down on drivers speeding, running red lights, not wearing seat belts and drink-driving.
"The UK is a leading road safety country, it's one of the top three along with Sweden and Denmark, so we hope that it would join and strengthen the level of road safety across the union," she said.
If the legislation was approved, the UK, Ireland and Denmark will not have the opportunity to opt out, she said.
It was hoped the proposals would be approved before Christmas, she added.