'Wrong lung' operation led to Cranbook man's death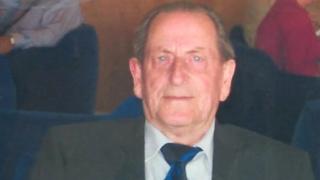 A man died after receiving treatment on the wrong lung in a Kent hospital, the coroner at his inquest has said.
Herbert Chander from Cranbrook, died on 22 January 2013 after being admitted to the William Harvey Hospital in Ashford five days earlier.
He died when a chest drain was carried out on the wrong lung causing it to collapse, the coroner's report said.
The hospital said it had apologised to Mr Chander's family and has since put new procedures in place.
Rachel Redman, the coroner at Folkestone Coroner's Court, said: "Mr Chandler suffered from chronic obstructive pulmonary disease and a left pneumothorax."
She said an "erroneous aspiration" - the drainage of air or fluid - in the right chest cavity led to his death.
'Systematic errors'
"A series of failings by the Trust have caused or contributed to the cause of death," she concluded.
The inquest heard one of the doctors at the hospital had failed to put in a chest drain on the day 85-year-old Mr Chandler died.
Another doctor had failed to request a chest X-ray before starting the aspiration procedure, even though it had been more than 48 hours since the previous X-ray.
The coroner said: "I consider that systemic errors have caused or contributed to the death."
A spokesman for the East Kent Hospitals University NHS Trust, which runs the William Harvey Hospital, said new protocols had been introduced.
All lung procedures will now be carried out by two members of staff after a safety check list has been completed, also by two member of staff, he said.
He also said all clinical records, X-rays and other images will be reviewed before the start of the procedure.
Alan Chandler, Mr Chandler's son, said: "It shouldn't happen should it? There's no excuse for it."