Eurotunnel Dover-Calais MyFerryLink appeals against ban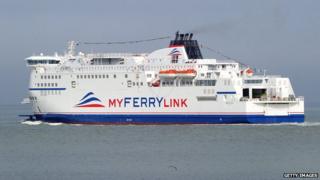 Eurotunnel's MyFerryLink has lodged an appeal against a decision that its ferry service should cease operating between Dover and Calais.
The Cross-Channel rail company has been operating the service since 2012.
Last month, the Competition and Market Authority (CMA) ruled it should stop in six months as current competition on the ferry route was unsustainable.
The case is expected to be heard by the Competition Appeal Tribunal in the autumn.
MyFerryLink said a judgment would then be made towards the end of the year or early in 2015.
Eurotunnel bought three ships from SeaFrance after it went bust in 2012, with MyFerryLink operating up to 24 daily crossings on the Dover-Calais route.
The CMA said this meant it had more than half the market when its rail link was taken into consideration.
It said it has jurisdiction over the group's acquisition of the ferries and related assets, but MyFerryLink disagrees.
An order giving Eurotunnel six months to stop running services has now been put on hold pending the outcome of the appeal.