Chatham dockyard exhibition tells story of WW1 at sea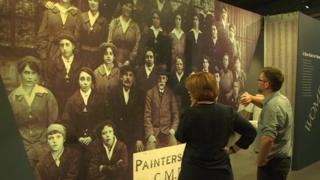 A Kent dockyard that 100 years ago formed a key naval base is staging an exhibition looking at how World War One was fought at sea.
Valour, Loss and Sacrifice opens at Chatham Historic Dockyard on Saturday.
Visitors will be able to see damage to warships caused by German submarines and mines, curator Alex Patterson said.
He said repair work carried out at the dockyard ensured ships got back out to sea to patrol troop, food and munitions convoys in and out of Britain.
"They were repairing battle-damaged destroyers, they were building submarines, and they were repairing and refitting ships," he said.
"They were turning them around so they could get back out to sea again and get on patrol."
Exhibits include first-hand accounts of the conflict, personal belongings and displays of paintings, pictures and poetry.
All have come from national collections owned by the Imperial War Museum and the National Maritime Museum, and also previously unseen items from the dockyard.
The dockyard launched its first C17 submarine in 1908 and specialised in submarine construction until the 1960s, building 57 of the vessels in that time. The dockyard closed in 1984.