Strood dog put down after neighbour bitten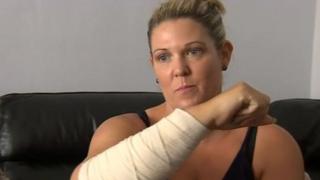 A dog that escaped into a neighbour's garden and bit a woman as she sunbathed has been put down, police have said.
Chase, a Staffordshire bull terrier cross, left Rachel Potter, from Strood in Kent, needing treatment for wounds to her arm after Monday's attack.
The dog's 60-year-old owner said she was extremely sorry for what happened but insisted her dog was not vicious.
Kent Police said the woman had been reported for offences under the Dangerous Dogs Act 1991.
Mrs Potter said she only realised the dog had broken through the garden fence when she heard panting.
She put her hand up to protect her face and the dog bit her arm.
Mrs Potter said she managed to fight the dog off before going to hospital.