Goudhurst war memorial restored for WW1 centenary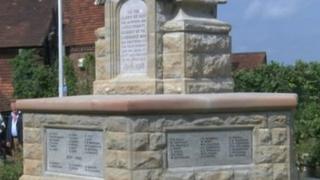 Ninety years of dirt and pollution has been removed from a war memorial in Kent in time for the 100th anniversary of the outbreak of World War One.
Hundreds of people gathered in Goudhurst for its unveiling on Saturday following a fundraising campaign.
Local historians researched the stories behind the names on the structure, some of which had been spelt wrongly and were corrected.
The memorial bears 60 names from World War One and six from World War Two.
One of the historians, Roger Joye, said new name panels were carved and some of the stonework was restored.
A second ceremony will be held at the memorial on Monday at 23:00 BST, the exact date and time that Britain declared war on Germany.
The church bell will toll every 10 seconds, followed by two minutes' silence, and the names of the 60 fallen soldiers will be read out, with small wooden crosses laid for each one.