Baby falls from Rainham first-floor window on to man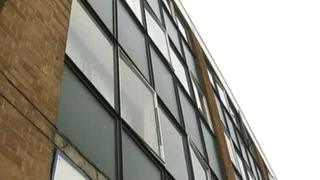 A baby girl suffered serious injuries when she fell from a first-floor window on to a man walking below.
Witnesses said the one-year-old dropped from the window in Rainham, Kent, and hit an elderly man walking below before landing on her front on the pavement.
She suffered major injuries and is in a stable condition at a London hospital.
A 30-year-old woman has been arrested on suspicion of child neglect. She was released on bail while investigations continue, police said.
Witness Becky Zacharow said she thought a doll had fallen from the window but realised it was a baby when the girl started screaming.
She said she picked the girl up to comfort her and saw she had suffered a large bump to her head and was bleeding from her nose and mouth.