No assault prosecution for Kent PCs over shop CCTV footage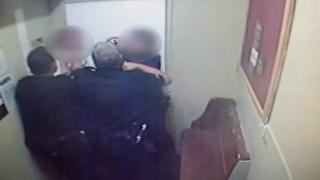 Three police officers suspended after a suspected shoplifter was allegedly attacked will not be prosecuted for assault, the Crown Prosecution Service (CPS) has said.
But two of the Kent PCs, Geoffrey Keen and Daniel Short, will face a trial accused of conspiracy to pervert the course of public justice.
The CPS said it had reviewed a file in relation to a claim of assault.
It said there was not enough evidence for a realistic prospect of conviction.
A spokeswoman for the CPS said lawyers had carefully reviewed a file of evidence in relation to an alleged assault on a member of the public in July last year.
She said the CPS had examined "expert evidence regarding the use of force".
"Based on that evidence we were not satisfied that there was sufficient evidence to provide a realistic prospect of conviction," she said.
The assault claim came after CCTV footage from Debenhams in Canterbury was posted online last year.