Harjit Chaggar: Pair challenge murder verdict and sentence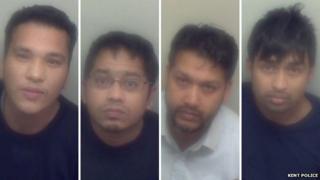 Two men who were jailed for life for the murder of a grandmother who was left to die in a cellar are challenging their convictions and sentences.
The body of Harjit Chaggar, 69, was found at the Sani Globe Food store in Chatham, Kent, on 14 September.
Mohammad Islam, 29, from Gillingham, and Murshed Miah, 38, from Maidstone, were both found guilty following an eight-week trial earlier in the year.
They were told they would serve a minimum of 25 years in prison.
A spokesman for the Judicial Office said: "Both lodged applications for permission to appeal both their conviction and sentence.
"A judge will look at the application and decide whether to give them permission to appeal. If he does a hearing date will then be set."
Mrs Chaggar's body was found 12 days after she was reported missing.
The motive for her killing was unclear but the court heard her badly decomposed body was concealed in a bin bag under the floorboards of the Luton Road shop.
Her injuries were consistent with being thrown into the basement while still alive.
Islam and Miah were also found guilty of preventing Mrs Chaggar's lawful burial, along with Abdul Hannan, 45, from Maidstone, and Rasad Miah, 27, of Chatham, who were both sentenced to five years in prison.
Hannan was found not guilty of murder. The four men had denied all of the charges.