Kent soldier helicopter death 'questions unanswered'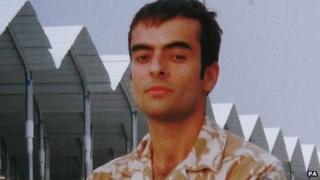 Questions about a fatal helicopter crash in Afghanistan have gone "unasked and unanswered", a coroner has said.
Assistant Coroner Andrew Campbell-Tiech QC made the comments at the end of an inquest into the death of 27-year-old Kent soldier Captain Ben Babington-Browne, who died in the crash in 2009.
He said the hearing in Maidstone proceeded without evidence from those who were present at the crash scene.
Recording his verdict, he said the soldier's death was accidental.
'Obvious questions'
Capt Babington-Browne, who served with the Royal Engineers, died with two Canadians when the Canadian forces helicopter crashed and caught fire at forward operating base (FOB) Mescall in Zabul province in July that year.
He had been strapped in, but seated on the floor on take-off with his legs dangling out of the door. Six people were on board.
The inquest heard a dustball created by the helicopter's rotor blades affected the pilot's visibility and the aircraft drifted and hit a security barrier.
Pathologist Dr Nicholas Hunt said Capt Babington-Browne died from multiple injuries and inhalation of fire fumes.
Mr Campbell-Tiech said Canadian officials refused to provide witnesses, transcripts or recordings for the inquest and also delayed responding to requests for information.
He had asked for evidence from the three surviving crew members, but said the inquest proceeded without any evidence from those present at the crash.
"A raft of obvious questions concerning the immediate circumstances of Capt Babington-Browne's death has therefore gone unasked and unanswered," he said.
"These include, but are certainly not limited to, why was he seated on the floor with his legs hanging out of the open door? Was this his choice?"
'Wrong helicopter'
The coroner also asked how common dustballs were on take-off at FOB Mescall, and why there was no firefighting equipment.
Nina Babington-Browne, the soldier's mother, said "significant evidence was withheld from the inquest".
She said experts told the coroner it was "simply a case of the wrong helicopter" and the aircraft was underpowered and dangerously overloaded.
"More experienced pilots would have known this, and acted accordingly," she said.
An inquiry in Canada found the condition of the landing zone and pilot technique were direct factors in the crash, but the mission was "appropriately tasked and authorised".
The report found pre-deployment training and preparations were not adequate and 19 recommendations were made.
A second Canadian report said the pilot lost "situational awareness" because of rapid and numerous changes in his focus as he tried to stabilise the aircraft and climb away.