Gold-diggers continue to search Folkestone beach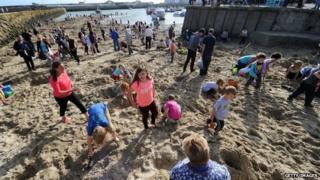 At least two pieces of gold have been found on a beach in Kent where a German artist has buried £10,000 worth of bullion as part of an arts festival.
Michael Sailstorfer has hidden thirty, 24-carat gold pieces on Folkestone's Outer Harbour beach.
About 300 gold-diggers headed to the beach on Thursday afternoon once low tide had exposed the sand, and many spent the day there on Friday.
Anyone finding the gold is allowed to keep it.
Organiser Claire Doherty said apparently four pieces of gold were found on Thursday, but only two of the finds were definite.
"I think people are keeping it a bit close to their chest," she said.
'Like losing watch'
Responding to comments that the event could have been a hoax, she said: "It's absolutely for real.
"I held the gold pieces in my hand. I helped bury them.
"But it's a little bit like when you lose your watch or something when you're on the seaside. I know roughly where they were, but now who knows."
The Folkestone Digs project is part of the town's triennial arts festival.
The event, which takes place every three years and runs from 30 August to 2 November, will also feature work by Yoko Ono.
Lewis Biggs, curator of Folkestone Triennial, said along with the buried gold bars were a lot of washers as decoys, which would also be picked up by metal detectors.
"We will never know whether all the buried treasure has been found or not," he said.
"Its value as art might be more than its value as gold," he added.
Are you in the area? Are you planning to take part in the Folkestone Digs project? Get in contact by emailing us and sending your photos to haveyoursay@bbc.co.uk. Please leave your phone number if you are willing to be interviewed.