British Army's first black officer Walter Tull remembered on coins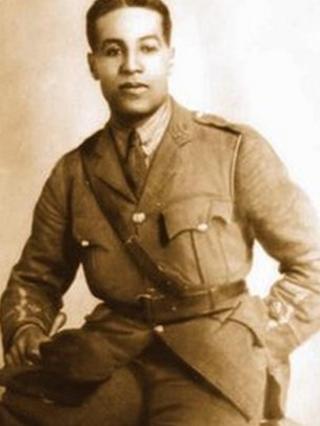 A special set of coins is to be released by the Royal Mint to honour the British Army's first black officer.
Walter Tull, who was born in Folkestone in 1888, was killed in action leading his men into battle in World War One on the Western front, in 1918.
He was promoted to officer rank during the war, despite a ban on black officers being given the status.
The coin will be part of the commemorations of the centenary of WWI.
Featuring a portrait of the officer with a backdrop of infantry soldiers going "over the top", it will be one of a set of six £5 coins to remember the sacrifices made by many during the war.
Military Cross
Tull, whose father was a carpenter from Barbados who had moved to Kent and married a local woman, was also one of England's first black footballers.
He joined Tottenham Hotspur in 1909, becoming the first black professional outfield footballer, but suffered racial abuse so moved on to Northampton the following year.
He enlisted in the army in 1914, rose to become a 2nd Lieutenant and died in the Second Battle of the Somme at the age of 29.
He was recommended for a Military Cross but never received one. Campaigners are calling for the government to posthumously award him the medal.
Other coins in the first set, released as part of a five-year programme of remembrance, include those depicting the first troops leaving for France, those working on the Home Front, a celebration of the Royal Navy, the role of propaganda during the war and the impact of war on technological developments.
Another set of six coins will be released each year until 2018, covering key battles and the stories of individual heroes of the time.
The final set will focus on the armistice and legacy of the war.
Shane Bissett, the Royal Mint's director of commemorative coins, medals and bullion, said the coins would capture "the emotive journey from outbreak to armistice".