Trail opens up Holmwood Common for walkers and cyclists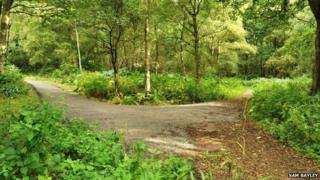 A five-mile trail designed to allow a Surrey common to be used by walkers and cyclists throughout the year has been completed after four years of planning.
Ranger Sam Bayley said Holmwood Common, which sits on Wealden clay soil, was previously impassable except in summer.
"It can be very muddy and very difficult for people to get around, especially in bad conditions," he said.
The circular path, which took a year to lay, runs round the perimeter of the common and connects existing pathways.
The National Trust and Friends of Holmwood Common worked on the trail with Mole Valley Ramblers, Mole Valley Cycling Forum and local residents and horse riders.
"Holmwood Common is quite a large area, but what makes it so special is that it sits at the heart of a whole series of communities such as North and South Holmwood, Beare Green and the edge of Dorking," said Mr Bayley.
"It is their recreation area, as well as for others coming from outside."
An official opening is to be held at Scammels car park in Blackbrook Road on 16 September.