Safety of pile-up Sheppey Crossing to be debated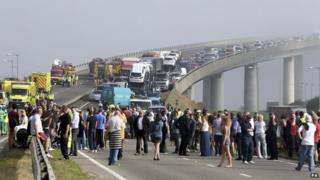 Safety on the Sheppey Crossing in Kent where 150 vehicles crashed and a mother and son were killed in a separate accident will be debated later.
Dozens of people were hurt in the multi-vehicle accident on the A249 bridge on 5 September 2014 due to foggy weather and excessive speed.
In July, a woman, 42, from Sheerness and her eight-year-old son died.
Ways to make the bridge safer will be discussed at a meeting of Swale borough transportation board on Monday.
'Thousands use it'
The debate was called by councillor Pat Sandle, who represents Leysdown and Warden ward on the Isle of Sheppey.
She said: "I believe something must be done to make the bridge safer.
"Thousands use it everyday, but it has a terrible safety record."
Chairman of the board and Kent county councillor Tom Gates said it was right that members had an opportunity to discuss what might be done to address safety on the bridge.
Calls have already been made for greater safety measures, including a hard shoulder, speed limits and improved lighting.