Margate gay flatmate hammer attacker sentenced to 14 years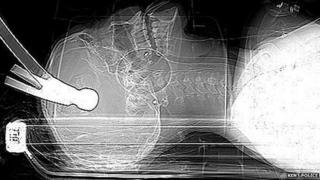 A man who tried to murder his gay flatmate in a hammer attack while he slept has been sentenced to 14 years.
Connor Huntley, 18, was found alive on his bed, but with the claw hammer embedded in his head in May last year.
Joseph Williams, 21, of Cliftonville, Margate, had made disparaging remarks about gay men, the Old Bailey was told.
Williams, who denied attempted murder and causing grievous bodily harm with intent, will be detained in a secure hospital under the Mental Health Act.
Prosecuting, Philip Bennetts QC said there were at least two blows with the hammer.
Penetrating brain injury
Williams dialled 999 and told police he thought he had killed Mr Huntley. Officers found the victim on a blood-spattered inflatable airbed at the flat in Athelstan Road.
He was taken to hospital with severe head injuries and treated for a depressed skull fracture and a penetrating brain injury, but was left brain damaged.
Mr Bennetts told the court the pair were "not the obvious flatmates" but had been put together by the landlord of the flat.
He said that just a week before the attack, the defendant told his neighbour, who was a friend of Mr Huntley's, that he did not know if he could live with him because he would end up hitting him.
While being interviewed by Kent Police, Williams gave no reasons as to why he attacked Mr Huntley.
'Hideous act'
Det Insp Richard Vickery said: "It is only due to the skills of medical staff that Connor is alive today.
"Connor has suffered life-changing injuries and I hope that today's verdict will assist him and his family to move forward and concentrate on improving his quality of life, both physically and psychologically."
A family statement said: 'Whilst Connor is making slow but steady progress from this horrific ordeal, we feel he has been handed his own life sentence by this hideous act.
"No-one deserves to be so viciously attacked in such an evil manner, regardless of race, age, gender or sexuality."