Kent Police report rise in hare coursing and poaching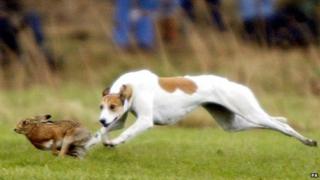 A large rise in cases of hare coursing and poaching has been reported in Kent.
Kent Police said 578 incidents of the crimes were reported to the force last year, nearly three times the number logged in 2010.
The charity World Animal Protection is calling for tougher sentences for those caught.
Sgt Dave Smith, from Kent Police's rural task force, said many victims were reluctant to report the crimes for fear of reprisals.
The Hunting Act 2004 made hare coursing illegal and anyone convicted can be fined up to £5,000 by a magistrate - although it is more common for suspects to be convicted for trespassing in pursuit of game - with smaller fines of about £300.
---
Hare coursing facts:
Coursers often use binoculars to spot hares
The dogs - usually greyhounds, lurchers or salukis - are on a slip lead threaded so it can be easily released
The coursers will walk along the field to frighten the hare into the open
The dog catches the hare and kills it by "ragging" it - shaking the animal in its teeth
The hare's corpse is usually cast aside after the kill
---
World Animal Protection spokesman Simon Pope said hares were not endangered, but were considered at risk due to falling numbers.
"The domestic poaching issue is about economics - there's a huge amount of money to be made out of this," he said.
"The days of poaching where somebody was going out and taking a pheasant or two for the pot have gone.
"It's becoming an activity which is much more associated with organised criminality."
Sgt Smith said many victims were reluctant to report the crimes.
"They just want to get on and do their job without fear of violence or threats from criminals," he said.
He asked people affected by poaching to use the internet-based Poacher Watch to give information anonymously.