New company set to take over Pleasurama redevelopment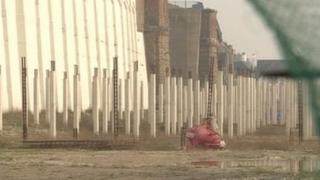 Councillors have voted to start negotiations with a new company that wants to take over the former Pleasurama funfair site in Ramsgate.
The seafront site, now known as Royal Sands, was owned by SFP Ventures, which had planning permission to construct a hotel, luxury apartments and shops.
However, Thanet District Council terminated its agreement with the firm after its plans failed to materialise.
It will now seek to negotiate a new agreement with Cardy Construction.
Evidence of funding
Councillors voted in favour of a motion to negotiate a clause in a new contract enabling the council to reclaim control of the site should Cardy fail to deliver a redeveloped scheme to an agreed timetable.
The council will vote on the negotiated terms in October, allowing an early resumption of work on the site.
The contract with SFP Ventures was terminated after it was unable to secure the necessary funds to complete the redevelopment.
The council has said it would require evidence of funding before entering into any deal with Canterbury-based Cardy Construction.
The site has been described as one of the most important regeneration projects in east Kent but has been derelict for 10 years.