Live animal exports protest at Ramsgate port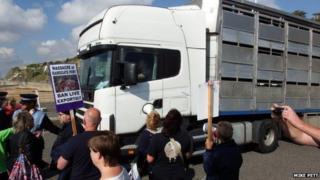 Protesters against live animal exports have tried to prevent five lorries carrying sheep from passing through the Port of Ramsgate, in Kent.
About 100 people were at the port from 08:00 BST, two years to the day since more than 40 sheep died at the docks.
Lorries carrying sheep for slaughter arrived a few hours later, but had to drive round the area three times before being allowed through on to a ship.
Police said three people were held on suspicion of obstructing a highway.
A 59-year-old man, from Ramsgate, and a 40-year-old woman, from Dartford, were arrested on suspicion of obstructing a highway, and remain in custody.
A 48-year-old woman from Minster, suspected of wilful obstruction of a public highway, was issued with a summons to attend court.
Sick and lame
Forty-four sheep were put down at Ramsgate on 12 September 2012 when a lorry was stopped at the Port of Ramsgate and the animals were found to be sick and lame.
In a separate incident, a loading area floor collapsed and three more died.
Thanet District Council banned the shipments after the deaths, but the ban was later overturned by the High Court.