Migrant children arriving in Kent at two-year high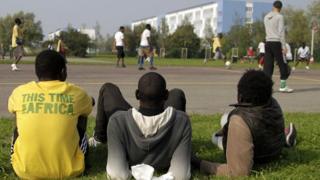 The number of migrant children taken into care by Kent County Council after illegally crossing the English Channel to Dover has reached a two-year high.
Currently 270 children under 18 are in care, with 38 others referred for care since August, BBC Radio Kent has found.
The council said caring for the children seeking asylum in the UK had left it in deficit by £2m.
The government said it was in talks with the council, which has described the costs as an extra burden.
Kent County Council said the current figure compared to 204 children in care two years earlier.
The lowest number of children in care within that period was 174 children at the end of January 2013.
'Government problem'
Child asylum seekers under the age of 18 have to be placed in either foster care or local authority-supported housing while their claim is assessed.
Council deputy leader John Simmonds said: "We're having to manage it within our budget management."
He added that it was "basically a government problem" and one that was unique to Kent given its proximity to Calais.
"So many of these [people] are in the all-rights exhausted category and it should be a case of beginning to arrange repatriation."
Mr Simmonds also explained that an added problem was that many of the children did not have any documents, so it was difficult to tell their age.
Financial support
The government states that where an unaccompanied person's age is in doubt, they must be treated as a child until a full age assessment shows them to be an adult.
Immigration minister James Brokenshire said the government could offer financial support in certain circumstances.
"But if people aren't co-operating, for example, in terms of leaving the country once they cease being children, there are issues there.
"So there are very practical steps that we are doing with Kent at the moment to establish precisely who these people are, whether they're entitled to support or not, and supporting Kent through this."