Centenary event in Chatham for fallen seafarers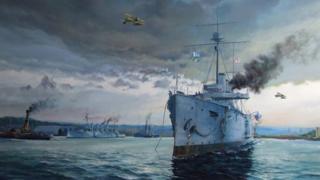 Relatives of 1,400 men from Medway who died in one hour when three war ships sunk in World War One are gathering on the centenary of the disaster.
Three Royal Navy cruisers, Aboukir, Cressy and Hogue were torpedoed and sank off the Dutch coast in the North Sea on 22 September 1914.
The names of the lost are recorded on the Chatham Naval Memorial, in Kent.
Descendents of the victims will attend a ceremony at the St George's Centre in Chatham.
'Wonderful way'
The ships had been manned with reservists from the Chatham Division.
Mayor of Medway Barry Kemp said: "It is important we remember the local men who died aboard Aboukir, Cressy and Hogue and this is a wonderful way of doing it."
The event has been organised by the Live Bait Squadron Society.
A painting of the three cruisers docked in Chatham before the tragedy is now on display at the Guildhall Museum in Rochester.
It was commissioned for the centenary and created by Kevin Clarkson.