Deal IRA bomb 25th anniversary: Marine remembers blast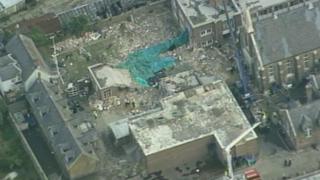 A Royal Marine who was caught up in an IRA bomb blast in Kent has spoken publicly for the first time as a service marked the 25th anniversary.
The attack on the Royal Marines' School of Music in Deal in 1989 killed 11 bandsmen and injured more than 20.
Andrew Gronkowski was in an accommodation area when the bomb exploded in the recreation room.
He was thrown across the room by the blast and recalls the mayhem that followed.
"It was quite obvious something very serious had happened," he said.
He remembers smelling explosives in the air as survivors were moved to the parade ground - the only place of safety.
"It was quite apparent, very quickly, what had happened, because we'd had over the previous months lots of meetings and lectures about IRA activity, which was commonplace then.
"Obviously once they were recovering bodies you very quickly realised just how bad it was."
Lt Col Graham Hoskins was principal director of music and knew many people involved, but had left his job two months earlier.
He said: "The only reason some survived was there was a stepped classroom down to the blackboards at the lowest end."
He said people at the lowest end were able to escape, but others were "destroyed".
'Still a shock'
Deal fire station commander Malcolm Cowie said the first team of firefighters was on scene for about eight hours, with crews returning over two or three days.
Crews focused on freeing people trapped in the rubble, before bodies were recovered.
"I think it's still as much of a shock today as it was then," he said.
"As time goes on, you just reflect on it and what a great sadness and you still grieve for those families who were left behind."
Family and friends of those who died have attended a private ceremony in Deal.