New Dover cargo terminal receives £120m investment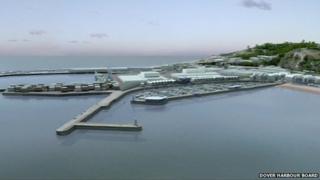 Some £120m of funding has been secured for a new cargo terminal at Dover.
Confirming its biggest ever investment in the port, Dover Harbour Board said its "bold" Western Docks Revival project would create hundreds of jobs.
Construction companies will now be invited to bid for contracts to develop the terminal.
The longer-term aim is to transform the waterfront, and potentially create a new marina.
The project will see the creation of more than 600 jobs and safeguard another 140 positions, the harbour board spokesman said.
George Jenkins, chairman of Dover Harbour Board, said the investment would "create long-term prosperity for Dover and for the nation".
'Momentous day'
Additional capacity at the ferry port will be created in the Eastern Docks by transferring cargo operations to the west, the harbour board said.
Nigel Bodell, head of port development at Dover Harbour Board, said: "It's an absolutely momentous day for us and the future of the port.
"The board has signed off the first phase of a major programme of work and we already have the majority of funds."
He said the port was aiming to open the new cargo terminal in the spring of 2017.