Plans to halve community warden numbers in Kent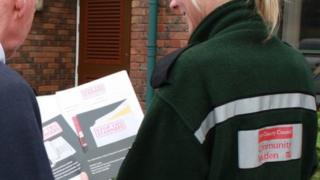 The number of community wardens in Kent could be halved under plans being put out to public consultation.
There are 79 wardens in the county, who work with residents and partner agencies to tackle issues such as fly-tipping, graffiti and vandalism.
Kent County Council (KCC) agreed in February to save £1.28m from its community warden service.
Savings have come through management and administration but the authority wants to cut warden numbers to 40.
The consultation will run until 9 November, and KCC said the public's views would be instrumental in the final decision.
'Fight against crime'
Mike Hill, KCC member for community services, said: "We started the scheme 12 years ago because we felt it would be of great benefit to our residents, but the financial situation has changed and we need to examine our services."
He said the changes would bring benefits with less focus on geographic boundaries, so wardens could be deployed more easily.
But Gordon Cowan, leader of the opposition Labour group, said: "I think they do help fight against crime and help against anti-social behaviour issues in families who are in distress.
"They are there to help them and guide them to the right source so that they can get the help that they need. Wherever these wardens are they are vitally, vitally important to the community."
A decision on the proposals will be made on 5 December.