Kent motorists face 40-mile diversion on A2 to Dover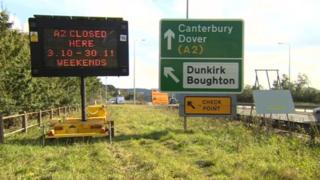 Drivers trying to reach Dover on the A2 are facing a 40-mile diversion as work to improve the coast-bound carriageway is carried out.
A six-mile stretch between Brenley Corner, where the road meets the M2, and Harbledown, near Canterbury, will be closed for the next nine weekends.
The work, which started on Friday, is being carried out between 20:00 on Fridays and 06:00 on Mondays.
The stretch of road carries up to 19,000 vehicles a day.
Some local businesses said they were concerned about the diversion.
'Put people off'
Hotelier Khanesh Sriravindrah told the BBC there had been a "considerable number" of cancellations from people worried about problems getting to the hotel over the past couple of weeks.
Sheila Feaver, of Sheila's Diner, said: "A lot of my customers thought they were closing both sides so I think that's going to put people off using the road as well."
The Highways Agency said the work was to prolong the life of the carriageway, improve road safety and reduce the need for continual emergency repairs.
A spokesman said a lot of thought and planning had gone into the "the most practical solution".
He said staff had considered a contraflow, but decided that closing the carriageway was the best option.
The scheme is expected to be completed by 1 December.