Grand Burstin hotel asylum seekers moved elsewhere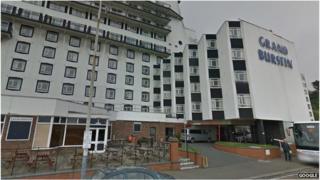 A group of 130 asylum seekers who were moved to a seaside hotel in Kent have all been transferred elsewhere, Shepway council has said.
The asylum seekers were moved to the Grand Burstin Hotel in Folkestone by the government last month to ease overcrowding at a south London hotel.
At the time, Folkestone and Hythe MP Damian Collins criticised the move and sought reassurances it was temporary.
The council said 30 left within 24 hours and the rest left on Monday.
The Home Office had said the asylum seekers would not be in the Folkestone hotel for longer than two weeks.
'Shuttled around'
Shepway council leader David Monk said: "We are reassured that the original timescale of the Home Office has been met."
Communities councillor Jenny Hollingsbee added: "Shepway District Council has supported the local community to minimise the impact of the events."
The Refugee Council has said asylum seekers are "being shuttled around and pushed from pillar to post" after fleeing horrifying experiences in their homelands.
The MP said he had gained assurances from the Home Office the government would pick up the bill.
He also said communities should not be put in a position where a decision on moving asylum seekers is taken without notice or consultation.
When the asylum seekers were moved, Mr Collins said it had been a decision the Home Office had made very quickly to relieve the situation in Croydon, and he had been notified the day before it happened.