Tunbridge Wells theatre 'needs £25m replacement'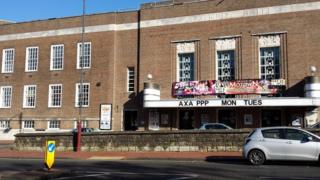 A new £25m theatre is needed to replace the 75-year-old Assembly Hall in Tunbridge Wells, which is no longer fit for purpose, the council has been told.
The town centre building needs £1.5m to replace seating, mend the leaking roof and improve the electrical supply, air conditioning and stage area.
But leader of the Kent council David Jukes said the repairs and improvements were a short-term solution.
"In the long term, we really do need a new theatre," he said.
"Regrettably it is no longer fit for purpose in the modern theatrical era."
Cultural centre
Theatre Manager Brian McAteer said the stage's fly tower leaked throughout last Christmas.
"If that occurred in the West End, the show would stop," he said. "The fact that it happened in panto was a bit of a godsend because panto casts will generally soldier on."
Tunbridge Wells Borough Council is considering a report which puts the cost of replacing the theatre at £25m - similar to the cost of the new Marlowe Theatre in Canterbury.
"In the long term, in the next six or seven years, we have got to think about having in a completely new theatre," said Mr Jukes.
"I want Tunbridge Wells to be the cultural centre of East Sussex, East Surrey and West Kent.
"But this building will not be demolished or sold or anything else until a new one is up and running."
He said the new theatre would be funded by disposal of the council's assets.
The Assembly Hall is part of a civic complex including the town hall, library and museum, which has been under review for several years
"I have been through a disposal of non-performing assets over the last two years which has raised about £5m," said Mr Jukes.
"I'm looking at another seven years - let's hope that I can raise a figure five times that."