New warnings for flood-hit homes in Maidstone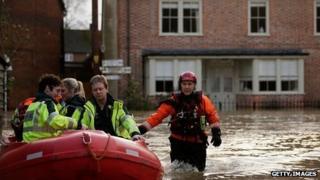 A review of the winter floods in the Maidstone area has recommended the use of new warning systems, better communication and more staff on duty.
The report by Maidstone Borough Council said more than 300 residential properties were affected in the storms which hit the borough in December 2013.
There had been a flood warning for some areas but it was not severe and so did not include Yalding and Little Venice.
The report said now the two places would have their own warning areas.
'More focused'
Other recommendations include training flood wardens and establishing a new incident messaging system.
The publication found that if the Environment Agency had put out a severe flood warning it would have caused "unnecessary alarm" to some residents
Yalding and Little Venice were badly affected with at least 70 residents rescued from a caravan park when the River Beult burst its banks.
Tim Norton, from the Environment Agency, said: "We are redrawing our flood warning areas to make them more focused on communities rather than whole stretches of the river."
Living in caravan
The report also said a handbook had been produced on what to do in an emergency.
As of August, of the 300 properties flooded, 10 families were still unable to return to their homes, the publication found.
Gavin and Lynsey Ritchie had to be rescued in Yalding on Christmas Day and are now living in a caravan after being in rented accommodation for six months.
Mr Ritchie said: "I would not call them plans, they are more like ideas or discussion notes and to be honest they mean nothing to me and my family because I do not see that there is going to be any difference to what they did 10 or 14 years ago when it happened last time."