Tory defector Mark Reckless hails by UKIP by-election win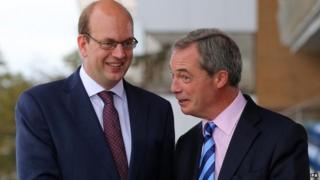 Mark Reckless, the second Tory MP to have defected to UKIP, says the Clacton by-election victory can help him win the Rochester and Strood by-election.
He said Douglas Carswell's victory had inspired him to focus on local issues and taking power away from Westminster.
However, North Thanet MP Roger Gale said he doubted UKIP's success would be repeated.
He said Mr Reckless did not enjoy the same level of "personal popularity" as Mr Carswell did in Clacton.
The Conservatives have not yet chosen their Rochester candidate, who will be selected by a postal primary.
Mr Reckless said: "Douglas won by a huge margin and it was incredibly inspiring seeing him become UKIP's first elected MP.
"One of the things Douglas has seen is that it's just so important in local campaigning.
"UKIP believe not just in getting power back from Brussels to this country, but getting power back from politicians in Westminster to local communities."
'Personal vote'
Mr Gale, a Conservative, said he was not surprised by Mr Carswell's victory in Clacton, but said there was a "great difference" between the two areas.
"Clacton benefited, undoubtedly, from a popular local MP, who - whatever his politics - was good at his constituency job... and that was reflected quite clearly in his personal vote," he said. "I don't think the candidate in Rochester and Strood enjoys anything like the same level of personal popularity.
Vince Maple, who is leader of the Labour opposition at Medway Council, said: "Speaking to residents here in Rochester and Strood... there are a lot of issues they're concerned about. I think the whole party is taking UKIP seriously."