Herne Bay Pier Trust petitions government for cash boost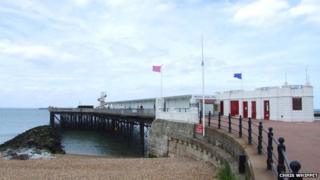 The trust trying to rejuvenate Herne Bay Pier in Kent has posted a petition on the Downing Street website appealing for a large injection of cash.
The pier was once the second longest in the UK and dates back nearly 200 years.
It was declared unsafe and closed in 1968 with the centre of it collapsing 10 years later in a storm, leaving the end of the pier marooned out at sea.
Doreen Stone, of the Herne Bay Pier Trust, said a cash boost would fund more huts for use by local businesses.
The promenade end of the pier was re-opened to the public in June 2012.
A beach hut retail village was then officially opened a year later, where 12 businesses currently trade.
'Traditional pier'
The trust wants to develop and restore the pier to its former glory, and its e-petition asks the government for a share of the Coastal Communities Fund.
Ms Stone said: "So far we've managed to build 12 huts down the leg and now we want to turn this massive platform, which is about an acre, into a place that people can enjoy, full of entertainment and all the traditional pier things.
"The beach huts here will earn us the rent to be able to pay back the money we've borrowed as we go along."
Councillor Andrew Cook, of Canterbury City Council, said it would create more jobs.
"It will also hopefully bring a lot more people into the town itself because they'll come to see the pier," he added.