Memorial unveiled to Dover swing death boy Cagney O'Brien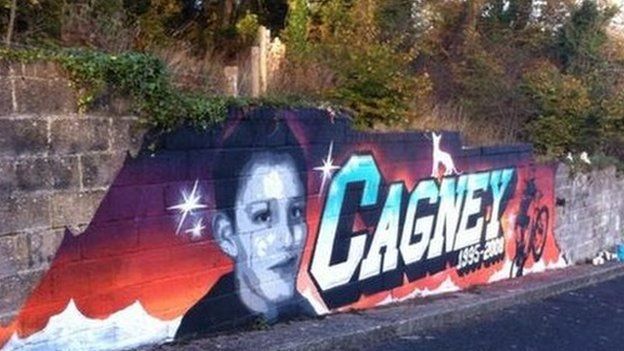 The family of a 13-year-old boy who died when he fell from a rope swing in Kent woodland have unveiled a memorial to him at the scene of the accident.
Cagney O'Brien died after falling 20ft (6m) and landing head first on the ground near Monk's Way, Dover, in 2008.
His friends gathered with the family as the spray-painted mural was unveiled.
"I'm glad this is here now - it's something to remember him by and something to make it look half decent," said Cagney's friend Phoebe Rodgers.
Ms Rodgers was with Cagney when he fell after losing his grip on the rope swing, which was tied to a tree.
Cagney died after suffering a fractured skull. An inquest in Dover a year later recorded a verdict of accidental death.
"It's amazing how many people did love him and do miss him and we always will," said his mother Danielle O'Brien.
Since Cagney's death tributes to him have been written on the wall but the family wanted something more permanent and the community collected money for the mural.
The inquest in 2009 was told an unnamed police community support officer (PCSO) had been told of the swing's dangers days before but failed to act.
Ms O'Brien said at the time she thought Cagney's death could have been prevented had the swing been reported.
But South East Kent Coroner Rachel Redman described his death as a "tragic accident".