Fight continues over Manston Airport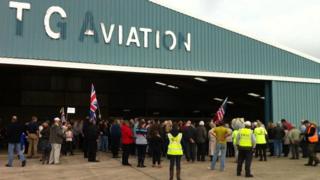 Hundreds of campaigners fighting to save a defunct airport have gathered at the site for a visit by a US company that also wants to reopen it.
BBC reporter John Young estimated about 300 protesters from the Support Manston group were there to meet representatives from RiverOak.
The site in east Kent was sold for development in September.
Thanet council is still in talks about a compulsory purchase order (CPO) with the aim of reopening the business.
RiverOak accepted an invitation to attend the event staged by campaigners, and update them on progress to become a partner in a CPO bid.
The company tweeted: "Thanks for all the supportive tweets & emails. We're working hard to become CPO partner to @thanetcouncil & get #manstonairport open again."
'Housing and manufacturing'
Campaigners said they wanted to show Thanet council how much local strength of feeling there was for the airport.
Thanet council said it could not comment on the campaign event but said a progress report was presented to its cabinet on 16 October.
Manston Airport was bought for £1 by Ann Gloag, co-founder of the Stagecoach Group, last October, but was closed five months later with the loss of 150 jobs.
Regeneration specialists Trevor Cartner and Chris Musgrave, part of the consortium behind Discovery Park, Sandwich, have bought a majority stake for an undisclosed fee.
They have said they plan to develop the site for manufacturing, housing and schools.
They said the 20-year, £1bn redevelopment would create more than 4,000 jobs.
No-one from Discovery Park was available to comment to the BBC on Saturday.